The Ultimate Guide: How to Write a Travel Blog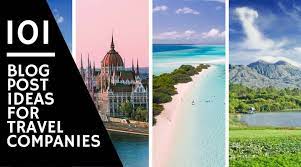 Writing the best blogs on tourism requires a blend of storytelling, practical information, and an understanding of your target audience's interests. Here are some tips to help you create compelling and engaging tourism blogs:
Know Your Audience: Understand your target audience's preferences and interests when it comes to travel. Are they budget travelers, luxury seekers, adventure enthusiasts, or cultural explorers? Tailor your content to cater to their specific needs and desires.
Select Captivating Destinations: Choose unique and exciting travel destinations that are likely to captivate your readers. Highlight the beauty, culture, history, and attractions of these places to make your blogs more appealing.
Tell Stories: Use storytelling techniques to make your blogs come alive. Share personal experiences, anecdotes, and encounters from your own travels or those of other travelers. Engaging narratives can transport readers to the destinations you're describing.
Include Practical Information: While storytelling is essential, also provides practical information that can assist travelers. This may include tips on transportation, accommodation, local cuisine, popular activities, and must-visit landmarks.
Use High-Quality Images: Visuals play a crucial role in tourism blogs. Include high-quality images and even videos of the destinations to give readers a visual representation of what to expect.
Provide Insider Tips: Share hidden gems, off-the-beaten-path locations, and insider tips that tourists might not find in mainstream travel guides. Offering unique insights can set your blogs apart from others.
Highlight Local Culture: Emphasize the local culture, traditions, and customs of the places you feature. Encourage responsible travel by respecting and embracing local practices.
Include Itineraries: Offer sample itineraries or travel plans for different types of travelers, whether it's a weekend getaway, a family vacation, or a solo adventure.
Address Safety and Sustainability: Address safety concerns and provide information about the current travel situation in the destinations you write about. Promote sustainable and responsible tourism practices.
Engage with Your Audience: Encourage interaction by asking questions and inviting readers to share their travel experiences or ask for advice in the comments section.
Stay Updated: Keep your content current by regularly updating blogs with new information, especially if there are changes in travel regulations, attractions, or services.
Promote Local Businesses: Support local businesses and services by recommending them in your blogs. This can have a positive impact on both travelers and the local economy.
Collaborate and Network: Collaborate with other travel bloggers, influencers, or tourism organizations to expand your reach and share your expertise with a broader audience.
Remember, the best tourism blogs not only inspire readers to travel but also empower them with the information they need to make their journeys enjoyable and memorable. Happy writing and happy travels!
How did travel blogs help to earn money?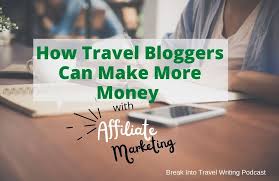 Travel blogs can be a source of income through various monetization strategies. While it may take time and effort to build a profitable travel blog, it can be a rewarding venture for those who are passionate about travel and have a knack for storytelling. Here are some ways travel blogs can help you earn money:
Affiliate Marketing: Join affiliate programs and promote products or services related to travel, such as travel gear, accommodation booking platforms, or tour packages. When readers make purchases through your affiliate links, you earn a commission.
Sponsored Content and Partnerships: Collaborate with travel companies, hotels, airlines, or tourism boards to create sponsored content or partnerships. You may be paid to write reviews, feature products, or promote destinations.
Display Advertising: Place ads on your blog using ad networks like Google AdSense. You earn revenue when visitors click on the ads or when the ads are displayed on your site.
Selling Digital Products: Create and sell digital products related to travel, such as e-books, travel guides, photography presets, or online courses. This allows you to monetize your expertise and knowledge.
Freelance Writing and Photography: Showcase your writing and photography skills through your blog, and use it as a portfolio to attract freelance opportunities for travel writing or photography assignments.
Consulting and Trip Planning Services: Leverage your expertise to offer consulting services or personalized trip planning assistance to travelers who need help with their itineraries.
Sponsored Press Trips: As your blog gains traction, you might be invited on sponsored press trips by tourism boards, hotels, or tour operators. These trips are often covered in exchange for reviews or coverage on your blog.
Travel Affiliate Programs: Some travel companies offer their own affiliate programs. By promoting their services, such as hotel bookings or tour packages, you can earn commissions on successful referrals.
Subscription Services: Offer premium content or a membership area with exclusive travel tips, guides, or resources that readers can access through a subscription fee.
Crowdfunding: If your blog has a dedicated and engaged audience, you can explore crowdfunding platforms like Patreon to allow your readers to support your work financially.
It's essential to keep in mind that building a successful and profitable travel blog requires consistent and high-quality content, SEO optimization, effective marketing, and building a loyal readership. Monetizing a travel blog usually takes time and effort, but with dedication and a passion for travel, it can become a sustainable source of income.