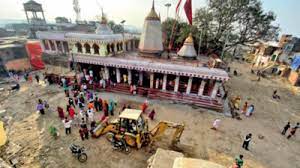 Vindhyachal Temple or Vindyachal Dham- is a sacred place in the district Mirzapur, Utter Pradesh. The most Important pilgrimage for Hindus, Goddesses Durga incarnated to kill Mahisasur.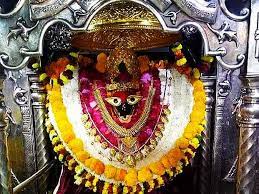 Maa Vindhyasini Temple
Vindhyachal are located at a distance of 70 km from Varanasi and 85 km from Allahabad, is a renowned religious city dedicated to Goddess Vindhyavasini. Vindhyavasini Devi Temple is situated 8 km from Mirzapur, on the banks of the holy river Ganga. It is one of the most revered Siddhapeeths of the presiding deity, Vindhyavasini Devi.
Places Of Religious Importances Near Vindhyavasini Temple
Kali Khoh Temple
Kali Khoh temple is dedicated to Kali Maa and is in the form of a cave. Goddess Kali is believed to be incarnated to kill the demon Raktabeej who had a boon that every droplet of his blood will give birth to another Raktabeej right away.
Ashtabhuja Temple
This temple is dedicated to goddess Saraswati who is mostly associated with literature or Vidya. Ashtabhuja, Lord Krishna's sister, had been running from Kansa's trap who tried to kill her and finally found a shelter here.
Trikona Parikrama
There are several temples of other deities in the vicinity, the most famous ones being Ashtabhuja Devi Temple and kalikhoh Temple. There is parikrama (circumambulation) which constitutes:
1. Maa Vindhyavasini Devi Temple, dedicated to Goddess Durga.
2. Kali khoh temple, in form of an ancient cave dedicated to Goddess Maha Kali (6 km from Vindhyavasini temple) Here, the deity represents to an incarnation of Hindu Goddess Durga, for killing demon Raktabeeja.
3. Ashtabhuja temple, dedicated to Goddess Maha Saraswati (on a hillock, 8 km from Vindhyavasini temple).
Interesting Facts about Vindhyachal Mandir
Interesting Facts about Vindhyachal
• Current Indian Standard Time Line, which decides time zone of whole India, passes through idol of Goddess 'Vindhyavasini'.
• In the middle ages, notorious and murderous Pindari thugs, Hindus as well as Muslims, used to worship Goddess 'Vindhyavasini' of Vindhyachal.
• The very famous war between Goddess Durga and Demon King Mahishasur, took place at Vindhyachal.
The most convenient way to reach Vindhyachal by Road is through National Highway 2 (NH 2), popularly known as Delhi- Kolkata Road. On the National Highway 2 (NH 2) road, which is incidentally part of Asian Highway 1 (AH1), take turn Southward, either at Gopiganj or Aurai, both places between Allahabad and Varanasi.
The distance between Varanasi and Ma Vindhyavasini Temple, Vindhyachal is approx. 63 Kilometres
- Cameras and Mobiles are not allowed inside the temple.
- Take care of your belongings.
Book Now Pay Later
Contact With Confidence
Get Big Deals & Discounts
Whatsapp Now +919839983021
Plan Your Dream Tour,
Vindyachal, Varanasi, Prayagraj & Ayodhya
BOOK NOW PAY LATER
WHATSAPP +91-9839983021