Varanasi & The Nearby Tourist Attractions
Plan your trip with highly Recommended Licensed Tour Guide
Varanasi & Nearby Attractions, With an official Tour Guide
Recommended by 99% of Travelers
Varanasi-Prayagraj Tour- 2 Nights & 3 Days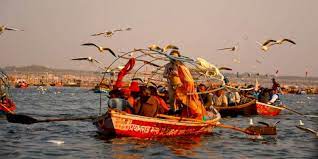 PROMINENT ATTRACTIONS OF PRAYAGRAJ
SANGAM, HANUMAN TEMPLE, ANAND, BHAVAN, CHANDRASHEKHAR AZAD PARK, NATIONAL MUSEUM
Prayagraj or Allahabad is prominently known as the Sangam city, as there is confluence of three major rivers (Ganga, Yamuna & Saraswati). Prayagraj is perhaps most famous for its Kumbh Mela (The world largest pilgrimage gathering).
PROMINENT ATTRACTIONS OF JAUNPUR..
- JAUNPUR FORT, SHAHI BRIDGE, ATALA MOSQUE & JAMA MASJID, GOMTI SANGAM, CHAUKIYA DHAM SHITLA MATA TEMPLE
Prominently known as Siraj-E-Hind during earlier times (mughal period0. Famous for its ancient historical places & cultural places. Jaunpur is famous for Wollen Carpets,Itra (Trditional Indian Perfume), Imarti, white raddish (Size varies from normal to 5ft and more).
PROMINENT ATTRACTIONS OF MIRZAPUR..
- VINDYACHAL TEMPLE, ASHTABHUJI TEMPLE, KALI KHO TEMPLE, CAVE PANTINGS, CHUNAR FORT, IST ZONE PLACE
Prominentily known as land of natural Daris or waterfall and is also famous for its Carpet work.
PROMINENT ATTRACTIONS OF AYODHYA..
- SHRI RAM JANMBHUMI, HANUMAN GARHI, KANAK BHAVAN, SARYU GHAT.
Birthplace of God Rama so is well known as Ram Ki Nagari. Ayodhy needs no intoduction as it is one ofthe most holistic destination for Hindus.
PROMINENT ATTRACTIONS OF SONBHADRA..
- VIJAY GARH FORT, SALKHAN FOSSILS PARK, AGHORI FORT
Prominently famous for its ancient history, Religious & places of special interest like natural treasure, eco-tourism spot, Natural Waterfalls, Salkhan Fossils Park & Lakes.
PROMINENT ATTRACTIONS OF CHITRAKOOT..
- KAMADGIRI TEMPLE, HANUMAN DHARA, SATI ANSUIYA ASHRAM, GUPT GODAVARI, BHARAT KOOP.
One of the very famous destination in Ramayana Circuit lies at the border of Madhya Pradesh & Uttar Pradesh.
PROMINENT ATTRACTIONS OF KUSHINAGAR..
- MAHAPARINIRVAN STUPA, RAMBHAR STUPA, WAT THAI TEMPLE, SUN TEMPLE, BUDDHIST MUSEUM.
One of the most sacred places in Buddhism where Buddha attained the Mahaparinirvana.
- GORAKHNATH TEMPLE, RAIL MUSEUM, GEETA PRESS, RAMGARH TAAL, VINDYAVASINI PARK, CITY ZOO.
PROMINENT ATTRACTIONS OF KUSHINAGAR..
The District Gorakhpur takes its name and fame from renowned, ascetic saint 'Gorakhnath', Often termed as Gateway to Nepal.
PROMINENT ATTRACTIONS OF BODHGAYA
- MAHABODHI TEMPLE, BUDDHIST MONASTRIES, BODHI TREE
Rush & have the adventure of Varanasi & Nearby Tourist Destination.
Whats App- +91-9839983021
Email- devendra21trans@gmail.com